Scandinavian Grind | Best Edge For Bushcraft Knife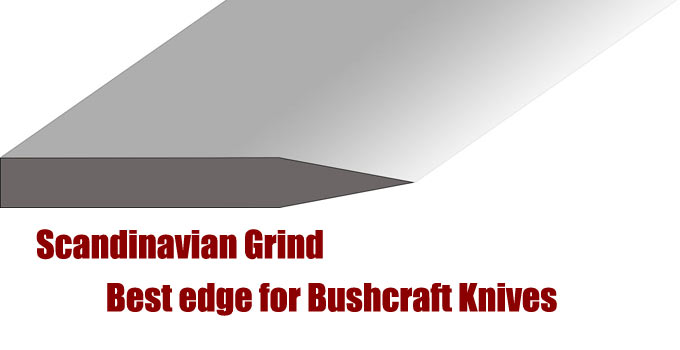 What is a scandi grind?
A scandi grind (or V grind) (also called a scandinavian grind) is a knife edge with a wide flat bevel that runs to the edge of the blade.
The image above shows the shape of a scandinavian grind knife edge.
The scandi doesn't begin tapering until closer to the edge.
There is no secondary bevel.
Advantages of the scandinavian grind
– The long flat bevel provides excellent control of the cut.
– Excellent control in woodcarving.
– scandi grind prevents the knife from slipping off easily.
– Bites into the surface without getting stuck.
– Can be sharpened 'razor sharp'
– Since more of the blade is the same thickness as the spine, the design provides good strength for batoning wood.
– Great for making feather stick / firestarter shreds
– The scandinavian grind can be resharpened easily without changing the angle of the edge.
– Very easy field sharpening.
– No sharpening jigs. Just lay flat scandi edge on stone to work the entire surface.
– This is very easy if you are a freehand sharpener. Easy to "feel" the bevel and get the correct sharpening angle.
– Use spine with a fire steel to spark a fire.
Scandi Grind Angle
There's not one specific angle that all knife manufacturers use. However, when it comes to sharpening a scandinavian grind, it's easy because the long continuous bevel is obvious – which goes right out to the knife edge.
Using a sharpening stone, the bevel lies flat against it.
For exact specifications, check your individual knife manufacturer / model.
Scandinavian Grind Knives
The scandinavian grind edge is common with Mora bushcraft knives.
One reasonable choice is this one:
Morakniv Bushcraft Carbon Fixed Blade Knife
(view on amzn)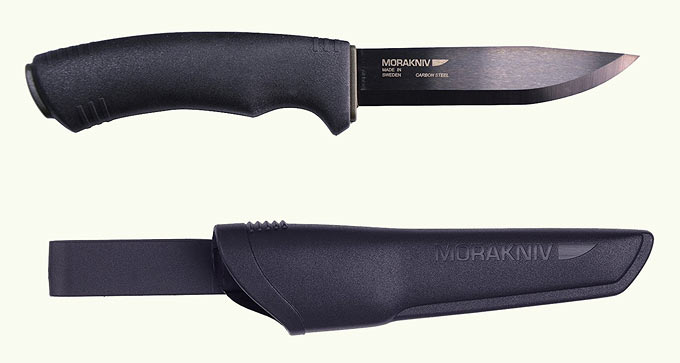 Morakniv has been manufacturing knives in Mora, Sweden since 1891.
Bushcraft Carbon Black Scandi Grind Knife
A great fixed blade knife for bushcraft.
Blade: 1/8″ carbon steel hardened to HRC 56-58
Blade length: 4.3 inches
Total length: 9.1 inches
Weight w/sheath: 5.7 oz.
Advantages
– Specially ground spine for use with a fire starter
– Scandi grind, very sharp
– Robust for batoning wood
– Prep tinder, feather sticks
– Carve shelter stakes
– Process wood

Note: Although you're able to sharpen this grind to a very sharp edge, over time the scandi grind will require more sharpening than others. But that's okay because it's easy to sharpen!
Here's an interesting video tour of the Morakniv facility in Sweden:

[ Read: Knife Sharpening Angle List ]