Things You Can Seal With A Food Saver Vacuum Sealer Machine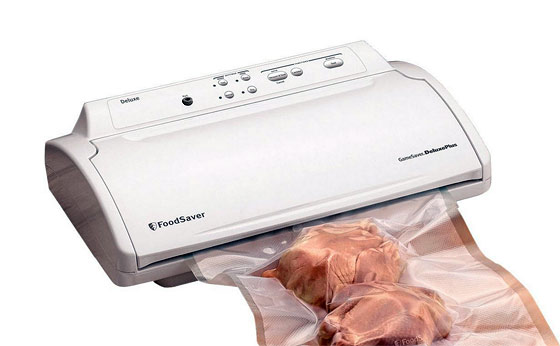 The best food saver machine (vacuum sealer) is the one that you have! They're great! (pretty much regardless of brand since they're all so similar in operation)
The machine, combined with vacuum seal bags (or rolls) may preserve some foods up to 5 times longer than zipper bags (Ziploc) or other ordinary containers (in the fridge or freezer).
"Food Saver" has become synonymous with the "vacuum sealer" machine. Many people refer to these as a "FoodSaver" vacuum sealer because they were first with market share long ago.
Today there are lots of brands to choose from. The way they work is essentially the same: Suck out the air from the bag for longer shelf life – no oxidation damage or freezer burn – and a better tasting result!
It's a great 'survival kitchen' tool with all sorts of multiple uses beyond just sealing food.
Lets get your input for the many things that you can do with a Food Saver vacuum sealer machine as it may apply to your own experiences.
Things to Vacuum Seal with a Food Saver Machine
Obviously it was originally designed to seal foods for the fridge or freezer.
Vacuum Seal Meat
I will say this regarding food and vacuum sealers: It significantly helps with preserving meat in the freezer! Vacuum seal bags eliminate freezer burn. Zero oxidation results in much better taste when thawed and cooked!
After sealing we write the month/year on the bag and the type of meat before putting into the chest freezer.
[ Read: How I Organize My Chest Freezers ]
Home dried Dehydrated Foods
There's a great attachment to use for sealing canning jars containing dehydrated foods. It's a "Jar Sealer". It's common to dehydrate vegetables from the garden such as peppers, onions, (whatever!), and store them in glass mason jars. Greatly extend the shelf life by vacuum sealing the air out of those jars:
Regular Mouth Jar Sealer Attachment
(view on amzn)
Wide Mouth Jar Sealer Attachment
(view on amzn)
Note: Requires a vacuum sealer machine with external hose accessory, such as this one:
FoodSaver Machine with handheld sealer hose accessory
Tip: We use ( this ) very handy jar lid opener when accessing our dehydrated foods (and our home canned foods). This way you avoid damaging the lid. And it's just easier!
[ Read: NESCO Food Dehydrator (article) ]
Herbs & Spices
Spices are a LOT cheaper if you buy them in bulk. You may receive them already vacuum sealed. But if not, you can do it yourself! It really helps to preserve flavor over time.
Seal Fire-starter & Fire-making Supplies
Ordinarily I keep my mini firestarter kits in a Ziploc bag. But you might choose to use a vacuum seal bag for a kit on a boat or environment that you know will be wet.
Vacuum Seal Clothing
It compresses well. Nice to have dry socks and other basic clothing necessities in a GHB or other related kit or backpack.
Emergency Food Snacks
Vacuum sealing food bars or candy bars or other emergency snacks will increase the shelf life. Great for a survival kit to supplement other foods.
Toilet Paper for your Emergency Kit
Take a roll of TP and vacuum seal it in a bag. It will shrink a good bit. Use a vacuum seal bag larger than the roll so you can reuse it afterwards to store what's left.
Canoe | Kayak | Boat Supplies
Seal whatever it is that you want to stay dry on your trip!
Paper Money
Although paper money can withstand some harsh wet conditions (i.e. the washing machine?), for long term storage of your 'loot', you might vacuum seal your stacks… (and hide them in the freezer?) 😉
Long term Gun storage
How about vacuum sealing a gun for long term storage? Properly oil first, wrap with oil damp rag, then vacuum seal.
Do you have more ideas for using a Food Saver vacuum seal machine?
Here's a popular book that I purchased some years ago:
Food in Jars – Preserving in Small Batches Year Round
VACUUM SEAL BAGS
FOOD SAVER ROLLS