Shelf Stable Cheese and Fresh Cheese Preservation Methods For Preppers
We are a reader supported blog and this page may contain affiliate links. When you buy something through our links we may earn a small commission.
Are Your Loved Ones Prepared to Survive Without You?Get My Manuals →
One thing that I would not want to do without is cheese. I like it way more than I should. When the pandemic started I realized that at best I had a month or so and I would be out. Since Matt and I were considering that we would need to stay at home for awhile, I started looking into options for acquiring some products in the mail that we would normally just buy at the grocery store. It was actually Matt that inspired me that there may be some options I had overlooked or not considered when he mentioned the Schwan's Frozen Food Truck.
These are some strange times to be alive in.
This post is going to go over the various options people have for cheese for either long term food storage and how and where to find regular cheese that can be shipped. The good news is that a lot of places will also ship you really good butter at a fair price.
Yes, this means that shipping has to be reliable. During a long term emergency or civil unrest, some shipping routes and companies could have issues. Of course, that is why you should have some shelf-stable cheese products too.
Shelf Stable Cheese and Fresh Cheese Preservation Methods For Preppers
Kraft Or Store Brand Parmesan or Parmesan Blend Cheeses
8 oz or 16 oz shakers of parmesan cheese are an easy thing to just throw in your cart. In my experience, you can get a 1 lb of shelf-stable cheese for around $7.50. While that is almost double what the 1b blocks of store-brand cheddar are at my local grocery store, a shaker of parmesan will stay good on the shelf for a year. Here is a link to the best deal I could find on the 16 oz size.
For those that want the best deal per ounce, you can buy a 4.5 lb shaker of Kraft Parmesan from Wal-Mart for around $25. Here is the link.
Uses: Parmesan can be used to flavor pasta dishes, bread, salad dressings, pizza, and more. Parmesan is also very good sprinkled on soups.
I highly recommend this cheese powder for making sauces, baking, and using it as a delicious popcorn seasoning. If you are nervous about buying such a large bag, you can buy a 1 or 2 lb container but the price per lb is a lot higher. A 5 lb bag of Hoosier Hill is around $30 and the shipping is free with a $100 order. They also give you 10% back as rewards points towards another order. If you want to just try out one or two of their products, Amazon is probably going to be better due to shipping costs.
The ingredients list is simple too. While I know that cheese powder is going to have something else added to it, the folks at Hoosier Hill keep it simple and pronounceable.
It is considerably cheaper to buy macaroni or shells in bulk and then buy a big bag of this cheese powder. If you or your kids love mac and cheese, it is the way to go, especially for long term food storage. The shelf life of the cheese powder is more than a year. I buy the 5 lb bags and then split it up into 1 lb or so increments and vacuum seal. This will give you at least another year and maybe more if kept in a temperature-controlled environment and kept out of the light.
Frontier Coop Cheddar Cheese Powders
I buy a lot of Frontier products. Their bulk foods are very high quality and I consider them a reliable alternative to more expensive freeze-dried foods. They sell a lot of items in 1 lb mylar style bags that are non-irradiated. They make three types of cheese powder and the cost varies. I will say that a single lb lasts a very long time. What they have currently is listed below but with so many people buying bulk foods, availability could change at any time. The links below are to a place I shop regularly called Vitacost.
You can check out the Frontier Co-Op site as well but for some reason, their products cost less on sites besides their own. I used to buy Frontier Cheese from Amazon but the price has gone up far too much on their site.
Frontier Mild Cheddar Cheese Blend
Organic White Cheddar Cheese Blend
This is not a bad deal for a full 24 oz of a quality cheese powder. There are a few that are less. This cheese powder is produced and packaged in a nut-free and gluten-free facility so it is an option for those that suffer from a lot of food allergies. The bag is conveniently resealable which can be nice. Judee's is GMO and rBST free and all milk comes from midwest farms.
I have come to like Augason Farms products. They get an A+ for great packaging, affordability, and variety. I like that I can get items that just have a single ingredient or just a few. Their tomato powder for example is just dried tomato. This cheese blend has up to 10-year shelf life. Each #10 can has 43 servings. It is worth having a few cans of this if you can eat regular dairy. I cannot eat uncultured dairy and this sauce mix contains non-fat milk powder.
I have purchased several products from Anthony's. The latest purchase was Heavy Cream Powder and Pea Protein Powder. The Heavy Cream Powder was very good and high quality. This cheese powder has no artificial colors or flavors. Each batch is tested and certified as gluten-free. As expected with all Anthony's products, this is GMO-Free.
Canned and Spray Cheese
I don't buy canned cheese or spray cheese but some people like it. I have been a little bit curious about canned cheese though.
I see this cheese on a lot of preparedness food supply sites and brick and mortar stores but I have not tried it. I guess part of my reservation is that it seems silly to me to buy cheese from Australia that comes in a can. That is a long way for cheese to travel.
The best price you are going to get on this cheese is buying it in a 36 can case but that is a big investment without trying a can to see if you like it. Try to find a can or two and order that to see if you like it enough to justify the cost. It has been around a long time so there is something to be said for that. Someone must like it. If you have tried it, let us know in the comments section of this post.
Spray Cheese
The most popular brand of this is Easy Cheese. I couldn't find a very good price on this type of cheese online. I would consider it as just a vice item and not really something for major food storage.
Store brands and some other fancier brands may be out there but choices seem limited. Even if I found a brand I liked I would have concerns about storing something in a spray can. It seems like it might be like those cans of spray foam that you use to insulate windows after setting in storage for a while. You go to spray and nothing comes out. If you have stored canned cheese for a year or more, I would be interested to know the results.
Jarred Cheese Sauce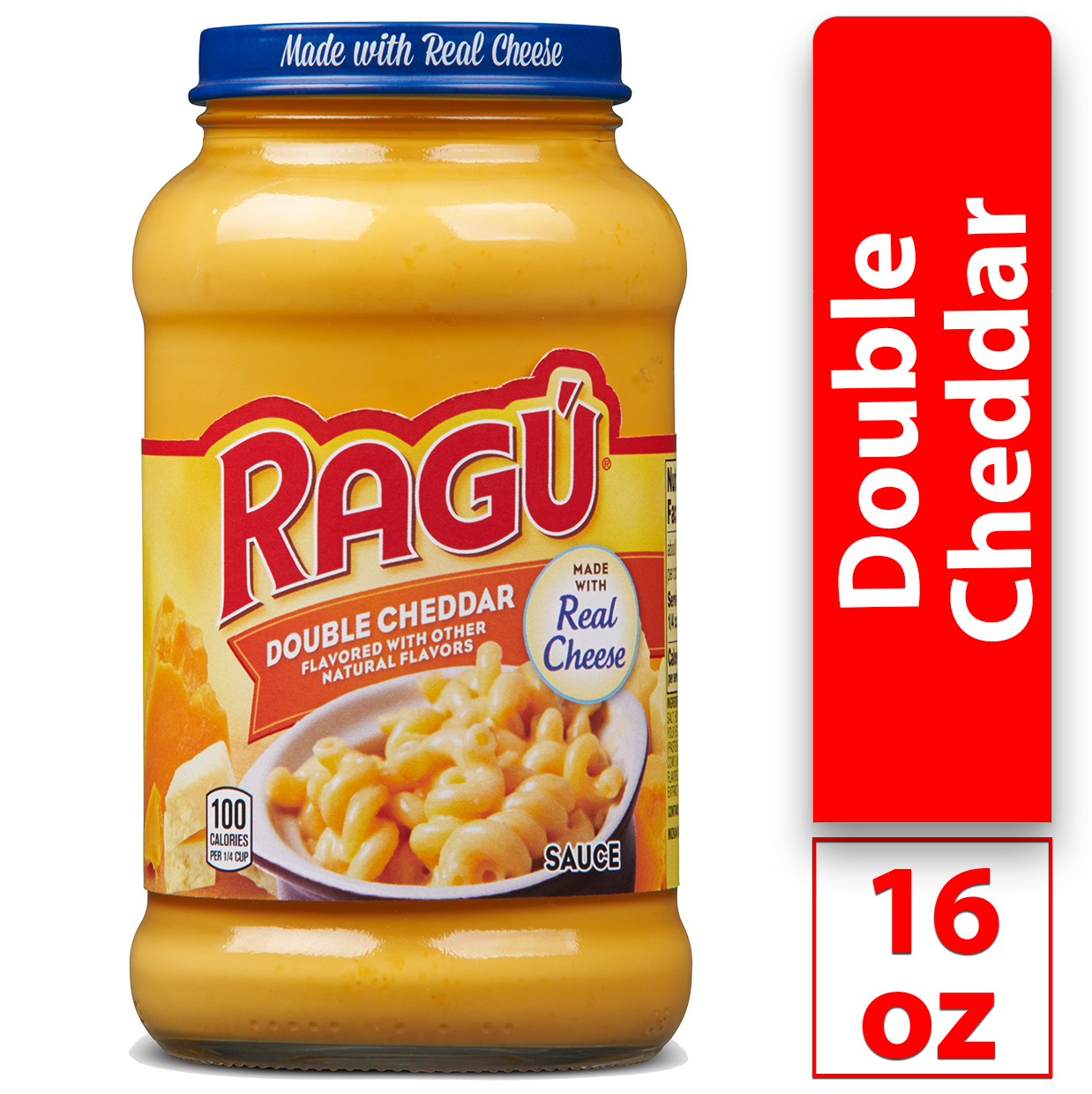 Ragu makes a double cheddar cheese sauce. Of course, you can get alfredo sauces and others in jars. The shelf life makes these most suitable for putting back with the intention of using within a year or so. Not a bad thing to have on hand if you have the space to store some jars or for when you want a fast meal.
Mail Order Regular Cheese
I have found several reliable and affordable sources of cheese and butter that are delivered promptly to your door. One of these is a little cheese factory a few hours from where I live.
Located in the High Country in West Jefferson, NC, this cheese factory has been in business for a long time and they make an impressive variety of cheeses. Their signature cheese is of course their cheddar. They offer it in several sizes, but the 2 lb blocks are the best value. On top of that, it is waxed and vacuum-sealed so it stays good for a long time in the refrigerator.
They also sell fresh butter in rolls. I order extra and freeze if for 6 months or longer. It is a good way to put back some cooking fats.
Ashe will let you design your own gift basket if you want to send someone a food gift too. They have started selling a lot of other foods online as well including old fashioned candies by the pound.
Ashe County Cheese and Troyer do some business together but Troyer offers some cheeses that Ashe County doesn't make. Their American Cheese Singles are out of this world. I don't like a lot of American Cheese because it often has a lot of added ingredients or is really way too salty. Last time I bought a 120 slice 5 lb block it was a mere $21.
I recommend opening up the package and sealing them up in smaller quantities. Troyer is also my online source for Mozzarella cheese. We had not made pizza with real mozzarella in many months so it was nice to have. Last time I ordered there was free shipping if you ordered $50 or more but since it is summer there is a flat $7.95 fee for a cooler and ice packs to make sure everything is nice when you get it. You can fit a lot in a cooler. Probably more than you are going to want to order at once.
I found this place just browsing for online cheese at a reasonable cost. While this is a little higher than your typical cheddar it is still worth looking at especially if you want to treat yourself to something special or get a cheese board gift pack for a special night. They definitely have some cheeses that Ashe and Troyer do not such as Limburger. They also sell a variety of other foods and variety packs that could be good for bugging in.
Thickening Cheese Sauces
Cheese powder tends to make a thin sauce unless you use a lot. Adding a little corn starch or flour in some cool water and blending and then adding to the sauce can thicken even very thin sauce bases and then you can adjust the flavor if needed. I use organic corn starch most of the time for this.
Making store-bought blocks of cheese last longer is easy with cheese wax.
My friend over at Modern Refugee had a really good idea. He takes whatever cheese he finds on sale and then waxes it. This will help maintain the flavor and freshness for a lot longer and keep mold from growing. You could also take it a step further and vacuum seal it too. This is a good way to do it if you catch a really good deal but know that you will only use so much in a given time period.
Consider that this also allows you to cut larger chunks down into more reasonable portions. If you catch 2 lb or 5 lb blocks on sale then you could bust it up into 8 oz blocks or even smaller if you want to be able to have a variety of cheeses on hand. 4 different types of cheese in 8 oz blocks may be a lot more useful than a single 2 lb block.
We only have two people at our house so if we open a big block of cheese then we are reluctant to open up two other varieties because it takes a bit of time to eat that much despite the ridiculous quantity of cheese we eat when you start adding it up!
You can save cheese wax if you are careful.
I save the cheese wax that comes on the cheese we get from Ashe County Cheese. While I have not used it to rewax any cheese, I saved some and made a candle with some hemp wicks and a canned ham tin. You can also use cheese wax to seal up Shiitake mushroom logs after inoculation.
Cheese wax is not the cheapest thing to buy by the pound so it is a good idea to save it if you have other uses for it. You can clean it well and melt it and reuse it for other cheese. You may have to strain or pour off the wax on top if there is any debris that settles at the bottom. You want to keep it nice and clean if rewaxing cheese.
Freezing Cheese
You can freeze cheese but a few basic rules apply. For starters, you should either grate it or cube it. Big blocks of cheese that are frozen become crumbly and dry out. I have frozen grated cheese for 6 months and it was just fine. Vacuum sealing would be best but if you cannot do that then use freezer bags or Saran Wrap to tightly seal.
I double-checked my results online and confirmed that cheese can be frozen for 6 months but you should unthaw it in the fridge before using, not on the kitchen counter.
Here is a list of some common cheeses that freeze well. Soft and semi-soft cheese should not be frozen.
Cheddar
Gouda
Swiss
Havarti
Parmesan
Feta
Mozzarella
Favorite Recipes
When we got the American Cheese in the mail from Troyer we made grill cheese sandwiches from home-baked bread. That was our lunch for a few days. Homemade bread, American Cheese, and grilled in Ashe County butter makes the best-grilled cheese! The cost is really low as well.
Pizza
Mac and Cheese
Shiitake Alfredo
Stuffed Pasta Shells
Spaghetti With Parmesan
Egg and Cheese Omelets
Snacking
Flavoring for homemade snacks like chips, crackers, and popcorn.
Making Your Own Cheese Spreads, Dips, and Salad Dressings
Jarred and canned dips and spreads are really expensive and actually contain a lot of filler products like soy oil and whey. You can make your own dips and spreads at home for a much lower cost. Salad dressings are another area where you can save a lot by making your own.
Cheese Dip
I use powdered milk to make yogurt and then strain it to make yogurt cheese. I like to use the strained yogurt/yogurt cheese for thick dips or spreads and regular yogurt for dressing. Just mix in some cheese powder and spices to taste. You will have fun creating your own custom cheese dips and spreads and this allows you to tailor the saltiness to meet your dietary needs.
Cheesy Ranch Salad Dressing
You can make a cheesy ranch dressing by adding your favorite ranch mix to some yogurt or yogurt cheese and some cheese powder. Just be sure to add a little and taste until you figure out how much seasoning is satisfactory. It is really easy to make something too salty when you start mixing seasonings that contain salt with cheese powder since most of it contains a substantial amount of sodium.
Pimento Cheese Spread
I use canned pimentos and shredded sharp cheddar cheese and then add enough mayonnaise to make it creamy. I like to add some black pepper and maybe some minced garlic and onion. Little green onions or dried chives add a nice flavor and make your pimento cheese look fancy.
Conclusion:
I keep my cheese stockpile varied. I have the fresher stuff in the fridge that I order from Troyer or Ashe County Cheese but I have cheese in shaker cans and cheese powder that is vacuum-sealed that will stay good for a longer period of time. Like any part of my food storage I try to divide up what I have in terms of short term, mid-term, and long-term storage and rotate accordingly.
In addition to cheese, I recommend putting back some yogurt powder or some powdered milk and yogurt culture. This will allow you to make a lot of comfort foods during a longer event. I really don't miss yogurt from the store because what I make from high quality whole powdered milk tastes just as good. Here are some links to my articles on powdered milk and making yogurt and yogurt cheese at home.
Cheese is comfort food that will be missed in a real long term SHTF situation. While you may not be able to put back enough to do for years, you can probably put back some for a few months even if you have limited space.
Have you made cheese part of your preps? Have you considered making your own?